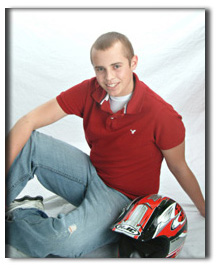 Trent's Retreat is a 501(c)3 non-profit foundation that was founded in 2009 in memory of Trent William Ueckert. One day Trent was practicing 8th grade football with his teammates and within a week, he was diagnosed with intra-abdominal desmoplastic small round cell tumor (DSRCT); a rare form of childhood cancer at the age of thirteen. Trent's goal from day one was to live life like a normal teenager. With the support of his doctor, friends, and family, he was able to do just that. Throughout eleven surgeries and twenty-four rounds of chemotherapy, Trent attended school, played football, rode his dirt bike, and had fun with his friends. During his two year battle with cancer, Trent was known for his positive attitude, fun-loving personality, and constant smile. His desire to live life to the fullest continues to be an inspiration to all who knew him. It is with his spirit to "GO BIG OR GO HOME" that we have pursued the dream of Trent's Retreat.
During our family's journey with childhood cancer, we were fortunate enough to have health insurance and the support of our wonderful community, friends, and family that financially allowed us to take memorable family trips. The most important aspect of our trips was the time we were able to spend together enjoying each other and making memories that will last a lifetime. Along our way we met many other families who were not as fortunate. They were financially drained and had not only the stress of worrying about their child's life-threatening illness, but also how to make ends meet on a daily basis. The goal of Trent's Retreat is to give families of pediatric cancer patients a place to temporarily take vacation from cancer and enjoy spending time together as a family.
Using money we raised through fundraisers and donations, our organization took a leap of faith and began construction on Trent's Retreat on June 8, 2010. Many contractors and local businesses have been very generous with labor and material donations. Trent's Retreat is a 1200 sq. foot cabin being built on forty-six acres overlooking Elm Creek near Ballinger; a quiet, peaceful town located in central west Texas. It is handicap accessible and has two bedrooms, a kitchenette, outdoor deck, and grill. Activities we hope to provide for out guests are paddleboats, fishing, nine-hole miniature golf course, hillside slide, bike riding, a nature trail, board games, and an outdoor movie screen. Families will stay at the cabin free of charge and if funds are available, we hope to provide them with groceries during their stay and help them with gas for transportation to and from the Retreat. On July 1, 2010 we were very excited to receive a $69,024 grant from the San Angelo Health Foundation. This enabled us to have the funds we needed to complete the house and many activities. We will continue to do fundraising and accept donations for honorariums and memorials to help with maintenance, utilities, and insurance, as well as our goal to provide families with groceries and transportation expenses associated with their stay at the Retreat.
Trent's Retreat will be a place of fun and laughter for children, a place of relaxation and rejuvenation for parents, and a place for families to spend quality time together and make special lifelong memories. Throughout Trent's journey with cancer, our hearts have been touched by the kindness and generosity of so many people. We truly appreciate everyone's support!